Donate to the Architectural Technology Program
Student Resources
Fill out the Arch Tech Help Desk Form for advisement and IT/Software requests.
Visit NYCCTfab for FabLab schedule & signup, workshops, one-on-one help & IT support, tutorials, and more.
Digital design media and tools shape the way that we design and engineer the built environment. As technological advancements in architecture and its allied fields develop rapidly (with increased market pressure for innovation and efficiency), we are called upon to use and research these tools more than ever - namely those of design computation and digital fabrication.
Design computation is the design of the built environment using digital means. Pairing up the processing power of high-end computers with advanced software allows us to integrate mathematics and computer programming languages into the design process toward the production of digital models.
All computer resources are located in the building housing Architectural Technology, Construction Management, Environmental Control System technology, and Civil Engineering Technology and are available for classes and special projects use daily.
LAB RESOURCES
7 Computer Labs (Existing):
| Equipments | Description |
| --- | --- |
| 23-25 | Computers w/ 1 teaching station |
| 7 | 36" Plotters |
| 6 | 11"x 17" Color Laser Printers |
| 5 | 11"x17" Black & White Laser Printers |
| 2 | Large Format Scanners |
| 7 | 11"x 17" Scanners |
SOFTWARE
7 Zip
Adobe Acrobat X Pro
Adobe Air
Adobe Bridge CC2018
Adobe Dreamweaver CC2018
Adobe Flash Professional CC2018
Adobe Flash Player Plugin
Adobe Illustrator CC2018
Adobe InDesign CC2018
Adobe Photoshop CC2018
Adobe Shockwave Player
ArcGIS 10.5.1
Archon Software
Arduino Beta
ArtStor OIV
Archivision
Autodesk AutoCAD 2019
Autodesk Mechanical 2019
Autodesk 123D Design
Autodesk 3DS Max 2019
Autodesk 3D Print Unity
Autodesk AutoCAD RPC Content Archvision
Autodesk Design Review 2019
Autodesk Education Master Suite
Autodesk Fusion 360
Autodesk Inventor Pro 2019
Autodesk Maya 2019
Autodesk Meshmixer
Autodesk Revit 2019
Autodesk Revit/Vasari Dynamo
Autodesk Vasari
Bently Engineering Suite
Bradford
CATT v.A9
CCleaner
COSMOSFloWorks 2008
COSMOSMotion 2008
COSMOSWorks 2008
Cortona 3D (VRML Viewer)
Cyclone
Deep Freeze
Design Builder
Desktop Radiance
Digital Project V1, R3
Ecotect Analysis
Energy Plus
eQuest
Google Earth/ (Pro) 7.3.2
Google Chrome
GTeam 3D Viewer
IES VE-Ware
Internet Explorer
Kayako
Leica Geo Office
Lumion 3D
MakerWare 2.4.1
Matlab
Materialise Magics
McAfee Agent
Mentor Graphics FloEFD
Mentor GraphicsFloThem
Mentor Graphics FloVent
Microsoft Office Professional
Microsoft Visual Studio
Maker
Mozilla Firefox
NetOp
Notepad++
NVIDIA 3D Vision Driver
NVIDIA Graphics Driver
NVIDIA HD Audio Driver
NVIDIA nView
NVIDIA WMI
Optics
Oracle Java
Oracle MySQL Suite
Pepakura
Picasa 3
Print Manager Plus- Client Processing
Python 3.7.1
IronPython 2.7.3
Procogo
Revit Architecture 2019
Rhinoceros 6.0
Rhino Autodesk T-Splines
Rhino GH Diva
Rhino ggIFC (ggBIM)
Rhino GH Chameleon
Rhino GH Exoskeleton
Rhino GH Firefly
Rhino GH Hoopsnake
Rhino GH Kangaroo
Rhino GH Karamba
Rhino GH Lunchbox
Rhino GH Mesh (+)
Rhino GH MeshEdit
Rhino GH Millipede
Rhino GH Nudibranch
Rhino GH Paneling tools
Rhino GH Python
Rhino GH Topologizer
Rhino Grasshopper
Rhino Paneling Tools
Rhino RhinoCam 2018 Rhino/GH Diva
Rhino/GH Geco
Rhino/GH Hummingbird
Rhino/GH Weaverbird
Rhino Nest
Robot Studio
SketchUp Legacy OpenStudio
SketchUp OpenStudio
SketchUp Pro 2018
SketchUp VRay
Snaglt
Staad Pro
Starling
Suretrak
Therm
TileMill
Trane TRACE 700
Utility Web Player
VLC media player
Wolfram Mathematica
Vray for Maya/3DS Max
Vray for Rhino 3.6
Architecture is shifting from the development of drawing sets that specify the assembly of a kit of parts to computational and fabrication methods that have been used successfully in the automotive and aerospace fields for decades. Architects can now design, simulate, fabricate, and evaluate custom components and products that fit the precise needs of the built environment rather than relying on the compromise of a pre-existing solution.
The Arch Tech Fabrication Labs prepare students to be the future leaders of our dynamic field by training them in advanced computational methods geared toward the production of architectural prototypes using various digital fabrication strategies including laser cutting, 3D printing, CNC machining, and 3D scanning and digitizing.
LASER CUTTING/PAPER CUTTING:
Universal X660 Laser Cutter:
18"x32" bed laser cutters with 60W lasers for the cutting and etching of a variety of non-flammable materials
Universal ILS 12-150 Laser Cutter:
24"x48" bed laser cutters with 60W lasers for the cutting and etching of a variety of non-flammable materials
Mimaki CF2-1215 Paper Cutter
35.7"x47.2" cutting plotter capable of cutting various kinds of media with high accuracy without dies with the use of a variety of knives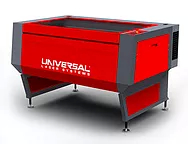 3D PRINTING/MOLDING:
ZPrinter 650 Powder Fill Color 3D Printer System:
Full-color 3D printing for the generation of 3D models in starch
Stratasys PolyJet Objet30 3D Printer
High-end prototypes, realistic models with specialized properties in resin
Ultimaker
8.8" x 8.8" x 8.1" uses ABS and PLA Filament
Lulzbot
11.4" x 10.8" x 9.8" uses ABS and PLA Filament
MakerBot Replicator 2x
9.8" x 6.3" x 5.9" uses ABS and Dissolvable Filament
Printrbot
8" x 6" x 8" uses ABS and PLA Filament
Formech 1372 SA VacuumFormer
A powerful combination of large forming area and wide forming capabilities including heating, cooling, and vacuum reservoir mark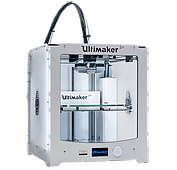 3D SCANNING:
Roland LPX-600 3D Scanner
Generates high-resolution (0.009in accuracy), watertight 3D polygonal models with a work surface 10"x16"
Microscribe G2X Digitizer
Collects point-by-point measurements of a model with an accuracy as fine as 0.009in. in an area of 19.6" x 15.7"
Faro Edge Arm Digitizer
Preeminent portable coordinate measuring machine (PCMM) that allows easy verification of product quality by performing 3D inspections, tool certifications, CAD comparison, and dimensional analysis.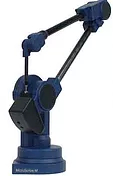 CNC MILLING:
Carvey 3D Carver
Desktop carving machine fully enclosed with a work area of 11.6" x 8" x 2.75" operating spindle 12000RPM up to 1/4" bit
Roland MDX-540 3-Axis Mill
An operating speed of up to 295in/min for cutting a variety of materials with a maximum volume of 19.6" x 15.7" x 6.1"
Roland ZCL-540 Rotary Axis Unit
Allow you to create multi-sided objects automatically without the need for manually flipping the part over, max envelope (4x4x11.25")
Precix 11100 3-Axis Mill
A 10'x5' CNC milling machine with a 5HP spindle to form complex 3D surfaces and cut precise contours from sheet materials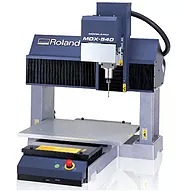 ROBOTIC:
ABB IRB 140
The IRB 140 is a compact and powerful multipurpose industrial robot with 6 axes.
ABB IRC5
The IRC5 is a compact and powerful multipurpose industrial robot with 6 axes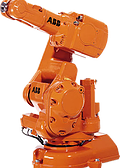 SENSORS/PCOMP:
Enviromental sensors
Monitors and control optimal conditions in designated spaces

Occupancy sensors
Data Loggers
Moisture Meter
Infrared Camera

Arduino Board + Raspberry PIs
An open-source computing platform for developing interactive devices that are able to sense the environment using sensors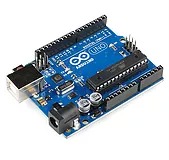 NYCCT ArchTech Club has been active since September 1979 to the Present day. We have been providing City-Tech students with Educational events such as Guest Speakers, Onsite tours, Architectural Firm Visits and trips, both local and abroad. More Info
Ursula C. Schwerin Library
The library department's mission is to enable City Tech students to identify, access, evaluate and use appropriate information and other academic research resources in traditional, electronic, or other media to support and advance their City Tech education and preparations for lifelong learning. More Info
U.S.A. Autodesk
Autodesk, Inc., is a leader in 3D design, engineering and entertainment software. Customers across the manufacturing, architecture, building, construction, and media and entertainment industries–including the last 17 Academy Award winners for Best Visual Effects–use Autodesk software to design, visualize, and simulate their ideas before they're ever built or created. More Info
Torcomp Studica
Studica is dedicated to its customers and makes every effort to supply you with additional resources that would be helpful such as informative webinars and webcasts. Studica offers an informative blog, Facebook, Pinterest, Google+ and Twitter feeds. More Info
Journey Education Marketing
Making software and related technology products affordable for students, educators and schools. Students with access to the best academic tools in their field have a proven advantage when it comes time to further their education or pursue a career. More Info
The American Institute of Architects
With nearly 300 state and local chapters, the AIA serves as the voice of the architecture profession and the resource for our members in service to society. We carry out our goal through advocacy, information, and community. More Info
The Society of American Registered Architects
The mission of the Society of American Registered Architects (SARA) shall be to provide a professional society for all who carry an architectural license regardless of their role in the building and designing industry and to allow those individuals opportunities to unite as a common voice to work together for the betterment of the profession; the advancement of all mankind and sustainability of the environment; and foster the Golden Rule of "Architect helping Architect."More Info
National Council of Architectural Registration Boards
The National Council of Architectural Registration Boards protects the public health, safety, and welfare by leading the regulation of the practice of architecture through the development and application of standards for licensure and credentialing of architects. More Info
The Great Buildings Collection
This gateway to architecture around the world and across history documents a thousand buildings and hundreds of leading architects, selected over ten years by the editors of ArchitectureWeek, with photographic images and architectural drawings, integrated maps and timelines, 3D building models, commentaries, bibliographies, web links, and more, for famous designers and structures of all kinds. More Info
The New York City Open Accessible Space Information System Cooperative
The Open Accessible Space Information System (OASIS) website provides the richest source of community maps for New York City -- free and all in one place. More Info
AIA New York State
The AIA New York State, Inc., an organization of The American Institute of Architects, came into being of necessity. In the early 1900's, it became essential that the Architects of this State have some organization that spoke for and represented the profession as a whole. More Info
Archinect
The goal of Archinect is to make architecture more connected and open-minded, and bring together designers from around the world to introduce new ideas from all disciplines. More Info
Rhinoceros Software
To enrich its clients, employees, suppliers, community, and stockholders - in that order. More Info
Jstor
Books at JSTOR has launched! JSTOR now offers more than 15,000 scholarly books from a leading roster of academic presses and scholarly publishers. More Info
ArchitectureWeek
ArchitectureWeek is a leading magazine of design and building online, providing news and features weekly on architecture and construction, digital media, architectural products, and building culture to hundreds of thousands of monthly visitors and 70,000 newsletter subscribers. More Info
Bustler
Bustler, the sister site to the leading architecture platform, Archinect, focuses on keeping the design community busy and inspired. Bustler has become the go-to online publication for competition and event listings in the architecture and design industries. More Info
Center for Architecture - AIANY Calendar of Events
The Center for Architecture is a destination for all interested in the built environment. More Info
U.S. Green Building Council
We believe in better buildings; places that complement our environment and enhance our communities. Places that give people better, brighter, healthier spaces to live, work and play. More Info
ARTstor
ARTstor is a digital library of over one million images in the arts, architecture, humanities, and sciences. More Info