Construction Management & Civil Engineering Technology
Hours and Modes of Operation
Monday 10am-6pm — In Office and Remote
Tuesday 8am-3pm — In Office
9am-5pm — Remote
Wednesday 10:00am-6:00pm — In Office and Remote
Thursday 8am-3pm — In Office
9am-5pm — Remote
Friday 9:00am-5:00pm — Remote only
Student Resources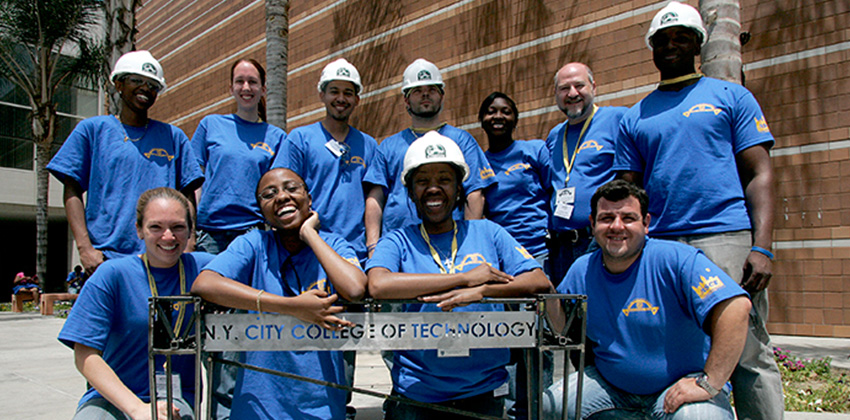 ASCE and ACI Student Chapters
The CMCE department is the home of the American Society of Civil Engineers (ASCE) and the American Concrete Institute (ACI) student chapters. Both clubs offer professional lectures, field trips, volunteer activities, participation in regional & national conferences, networking opportunities and a place students can call "home." Upcoming events are announced through club email lists and flyers on the department's floor. Please contact a faculty advisor for more information.
Club officers are elected each academic year by the CMCE student body, and students can also join various committees and teams, such as the Steel Bridge Team. See a faculty advisor to find out how you can get involved today!
Steel Bridge Competition
The National Student Steel Bridge Competition is a premier inter-collegiate steel competition organized by the American Institute of Steel Construction (ASCI). This competition challenges future structural engineers to design, fabricate and construct a bridge. Participating students gain practical experience in structural design, fabrication processes, construction planning, organization and teamwork. Regional competitions are held each year and winners and first runners-up from are invited to compete at the national level. The CMCE department was qualified to compete at the national level in 2006, 2007 and 2019. Good luck to this year's steel bridge team!
AGC and CMAA Student Chapters
The CMCE department houses student chapters of the Associated General Contractors of America (AGC) and the Construction Management Association of America (CMAA). Join in Construction Management focused activities, apply for jobs and scholarships, attend departmental and alumni networking events, and participate in regional & national competitions!
Club officers are elected each academic year by the CMCE student body, and students can also participate in our Pre-Con and CM competition team as a trainee or competitor. Email our faculty advisor to get involved.
The CMCE department maintains a strong network with employers in the New York City Metropolitan area. The department has successfully placed students with the following employers for full-time and internship positions:
AECOM
Aleta Industries
Artc Construction Corp
Ava Shypula Consultants
Baker Engineering
Brooklyn Navy Yard Development
Columbia University
Cyprus Construction
DASNY
Dayton Inspection Services
Delta Testing Labs
Ellana, Inc
Goldreich Engineering
Greenman-Pederson, Inc

GZA GeoEnvironmental
HAKS
Hertzberg and Sanchez Architects
HNTB Corporation
Hunter Roberts
Independent Testing
J. Kokalakis Contracting
Langan Engineering
Macia Testing Laboratories
Molfetas Works
NYCDDC
NYSDOT
P. Wolfe Consultants

Pena Aiken, Inc.
Prometal Construction
Rand, PC
SH5 Construction
Sidney Brown and Son, LLP
Skanska
Skyline Restoration
Strocchia Iron Works
TDX Construction
Tectonic Engineering
The McKissick Group
Tri-Line General Contracting
Weidlinger Associates
Please make an appointment with the Job Placement Coordinator for assistance with resume writing, interview techniques, job descriptions and available job postings.
Testimonials
Our graduates and their employers are our strongest supporters of our job placement efforts! Here is a selection of graduate and employer testimonials:
Graduate Testimonials
"Dear Professor, I am writing to say THANK YOU very much for your help and recommendations. This Friday was my first day at [the engineering firm] as a full time structural design engineering intern. Once again, I am very grateful for your help in finding me a dream job and jumpstarting my career."
"Dear Professor: Thank you for referring me to [a construction company]. They offered me a position as an assistant Quality Control representative. I've never been this excited, it's a great opportunity with a great company. During my first interview I was told that your influence meant a lot, since you referred me. Thank you. I will try my best to succeed."
Dear Professor, I have found a job one month ago as an estimator in [an HVAC company]. Responsibilities [are] not limited to estimating, drafting and assistance in project management [are also] involved. Thanks for your concern. . .Thank you so much. P.S. I noticed that your email [was] completed at 6:30 AM, I really appreciate all your attention, patience, and kindness for your students like a father."
"Hi Professor, I am actually waiting to hear my start date at [the new company]. I am being hired as a Plan Clerk. I took the job because I thought it was a good way for me to go on my journey of becoming a Project Manager."
"Today I went to an interview . . .and it went pretty well. I was hired, and I start November 27th in a position as a Project Manager. I would like to thank you so much I really appreciate it. Thank you!"
"Hello Professor; I going on almost 4 months with [my construction company], [and] its great working with them. I'm learning so much, I think I'm addicted to this. My 3 month evaluation went well, they [have] given me a substantial increase, and are very satisfied with my performance. Today the VP asked me if I knew of another individual, like me, who went to school and is motivated. He is looking to hire another graduate, or perhaps a student. . . I told him I would ask you. . . Thank You."
"Dear Professor, I was hired by [a local testing laboratory] as a technician. Today is my first day on the job and it's quite challenging. It's been sometime now since I did those things so I'll have to do some recapturing. I will make it though. Thank you so much for helping me. I tremendously appreciate it."
"Professor, Thank you for sending out my resume to various companies, I have received and completed an interview for [a local] engineering [firm]. They said they are going to give me the opportunity to work for them, so I am just waiting on a schedule to start working. Thank you once again."
Employer Testimonials
"We are currently in the process of hiring [one of your students] for a [government] project. Thank you for the recommendation and help in [hiring one of your students]."
"Thank you for your recommendation. I spoke to him this morning and have offered him a job with our company. I am meeting [him] at one of our job sites later today to show him one of our jobs in action. Thank you again."
"Professor, Once again I come to you for possible placement of you recent and soon-to-be graduates. We are looking for several Autocad operators and would appreciate any resumes you can forward to this office. Thanks again."
"I would like to thank you for e-mailing the resume of your students. I have already scheduled interview with few of your students and expect to call all students in near future. . . We are expecting to hire 20 to 30 candidates over next two years. Your students are the best. Thanks."
"Thank you very much for passing the resume of your former student to me. I appreciate you thinking of [me] and [my firm] when someone is looking for work. . . All the best"
"Good Morning Professor, I interviewed [one of your graduates] last week and was quite impressed with him. . . if you have any more resumes please send them to me as I would like to place your recommended people first. Thanks and have a good day."
Continuing Education
Nearly half of all CMCE graduates continue their education beyond the associate degree. Our graduates have been accepted to bachelor and master degree programs at: Manhattan College, Polytechnic Institute of NYU, Pratt Institute, The City College of New York, New Jersey Institute of Technology, Fairleigh Dickinson University, Wentworth Institute of Technology and Stevens Institute of Technology.
Please make an appointment with the Academic Coordinator for assistance with college applications, scholarship applications, eligibility requirements, additional coursework and letters of recommendation.
Scholarships
Many opportunities exist for students to apply for academic scholarships. Students are encouraged to meet with the Academic Coordinator to apply for local, state and national scholarships. Additional scholarships are available directly through the college that are merit and need-based. For more information, go to the Office of Scholarships and Residency Services located in Namm Hall NG-09 or call 718-260-5054.
Below is a listing of professional organizations that offer yearly scholarships in the construction management and civil engineering fields. Click on each organization for more information.
American Society of Civil Engineers (ASCE)
ASCE Metropolitan Section
AACE International
American Institute of Architects (AIA)
Associated General Contractors of America (AGC)
Association of Dam Safety Officials
New York State Engineering Technology Association (NYSETA)
American Council for Construction Education (ACCE)
American Institute of Steel Construction (ASIC)
American Concrete Institute (ACI)
American Welding Society (AWS)
Moles Construction Group
National Society for Professional Engineers (NSPE)
National Society of Black Engineers (NSBE)
Society of Hispanic Professional Engineers (SHPE)
Society of Women Engineers (SWE)
Professional Engineering License
New York City College of Technology's Civil Engineering Technology program is accredited by ABET Inc. ABET Inc., is the recognized accreditor for college and university programs in engineering and technology and is a federation of 28 professional and technical societies representing these fields. Among the most respected accreditation organizations in the U.S., ABET has provided leadership and quality assurance in higher education for over 70 years.
Because our program is accredited by ABET, our students are able to seek a professional engineering license sooner than other non-accredited programs. In New York State, our students can apply for and take the Fundamentals of Engineering (FE) exam after completing the associate's degree and then accumulating 3 or more years of qualifying work experience. This gives our students an Engineer In Training (EIT) certification. After our students have accumulated the additional amount of qualifying work experience, they may then apply for the Principles and Practices of Engineering (PE) exam. Upon passing this exam, they are fully licensed civil engineers in the State of New York. More Info
ACI Certification
ACI offers 18 certification programs designed to form a minimum qualification for personnel employed within the concrete construction industry. We offer our students as well as professionals the opportunity to attain ACI's Certification in Fresh Concrete, Level I. We are a testing site with in-house certified examiners. For more information on upcoming courses and exam dates, contact the Department Chair. More Info
NSPS Certification
The National Society of Professional Surveyors (NSPS) sponsors a comprehensive national certification program for survey technicians. The Certified Survey Technician (CST) exam is four-level certification program for surveying and mapping technicians. We offer our students the opportunity to attain CST Level I – Entry level certification. This exam is offered at our college with in-house certified examiners. For more information on upcoming courses and exam dates, contact the Department Chair.
Academy for Construction Education and Safety practices
The Department of Continuing Education offers an array of courses that will help you advance in your career and improve safety records within your organization. The Academy currently offers programs such as:
OSHA Training
DOT and Highway Safety
Trench Safety
Fall Protection Safety
Scaffolding Safety Training
Hazpower
Fire Safety and Prevention
For more information on tuition and registration for these and other programs, please call 718-552-1117.