School of Professional Studies
300 Jay Street
Namm Hall 621 (N-621)
Brooklyn, NY 11201
Phone: 718-260-5345
Meet the Dean
It is my pleasure to welcome you to the School of Professional Studies at City Tech!
Programs in the School of Professional Studies prepare students for direct entry into careers in health care, business, human services, hospitality, legal studies, and education. We offer both Associate and Baccalaureate Degree programs.
As a student you will have professors who are practicing members of their disciplines, and who have extensive industry experience and contacts. Our adjunct faculty work in the field - in hospitals, agencies, schools, businesses, courts, and hotels and restaurants.
New York City is used as a "living laboratory" in many of our courses. As a student, you will engage in active learning, in clinical rotations, internships, field trips, special projects, and/or volunteer work. The School has developed wonderful relationships with many different external organizations, hospitals, schools, agencies, and clinics across New York City.
Outside activities are an important part of our programs. Hospitality students participate in events such as Harvest in the Square, Brooklyn Eats, and the Grand Central Partnership. They work in soup kitchens and prepare holiday meals for community groups. Nursing and Dental Hygiene students go into area schools and Head Start programs to teach children. Radiography and Nursing students participate in Brooklyn's march against breast cancer. Accounting students provide tax preparation assistance through the Internal Revenue Service VITA program. These are just a few of the many ways you will not only gain additional experience, but make a real difference to the larger community within which we live.
In addition to the great experiences you will receive in the larger New York community, you also have access to the latest equipment in state-of-the-art laboratories and clinical environments within the college itself. We aim to prepare you for a career in the area of your choice, and pride ourselves in giving you the necessary education to not only work with current equipment, but to give you the skills needed to keep up with and anticipate future changes that are inevitable in the explosion of new technologies that is part of modern society.
Our faculty are intensely involved in scholarly activities, from research projects, to professional practice, to participating in competitions and exhibitions. There are opportunities for students to engage in research with their professors. Many faculty are active in their professional organizations at the local, state, and national level.
If you are interested in any of our programs, please check out the web pages and contact the departments directly. We are always interested in talking to potential students about our programs.
Any additional questions? Please don't hesitate to ask!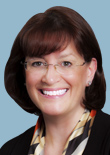 Maureen Archer
Dean
Room N621
718-260-5345
MArcher@citytech.cuny.edu