300 Jay Street
Namm Hall 901 (N-901)
Brooklyn, NY 11201
Phone: 718-260-5610
It's here! City Tech New Website Announcement
We are pleased to reveal our newly designed website for the New York City College of Technology. The new site offers a fresh new look and easier navigation. We are now using a responsive design, which means you'll find the same information, and essentially the same look whether you're using your desktop, tablet or smart phone!
The new website project, which has been in development for the past year, has involved staff, students, faculty, and reflects a shared vision of the College community.
Feel free to look around! We're confident you'll find the information you're looking for very easily. If you have a question, visit our Frequently Asked Questions page. If you still can't find the answer to your questions after reviewing our FAQs, please send us an email at webservices@citytech.cuny.edu
We welcome your feedback as we continue to work on improving the experience of our users and students.
Questions we anticipate:
How can I access email and other items that were in the "Quick Links" dropdown menu?
You will find links to CUNYfirst, Faculty/Staff Email, Student Email, CUNY Portal, Blackboard and other links formerly in the "Quick Links" dropdown menu at the "Quick Links" menu in the section that will look like this…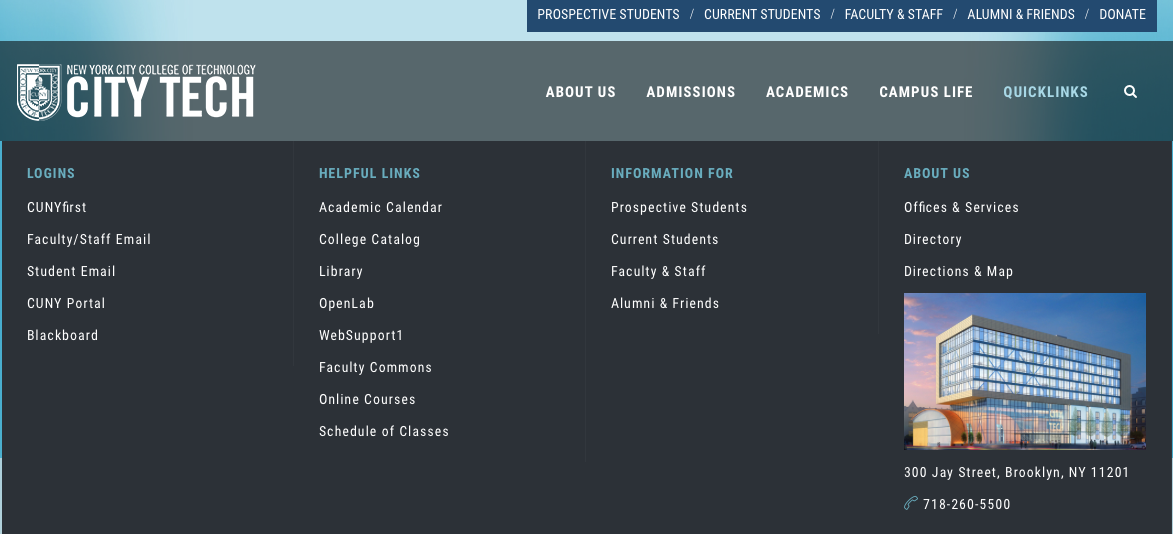 What happened to the main menu navigation when view the website in mobile devices?
These menus can be found by clicking the "Flyout" menu icon (similar to menu on Facebook and other popular sites) located in the upper-right corner. This menu icon will look like this…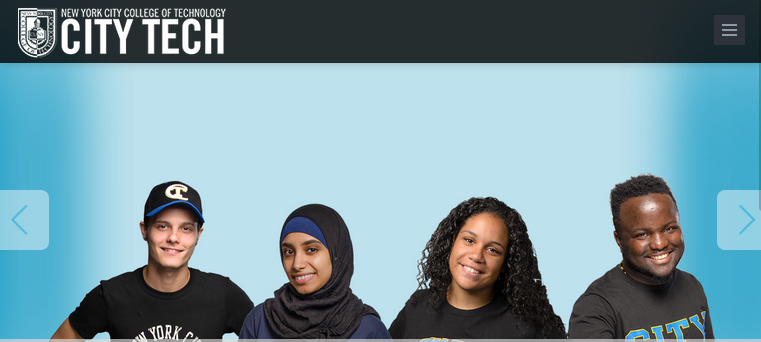 Once this menu is opened, you'll find expanded main menu links to the New York City College of Technology website that will look like this…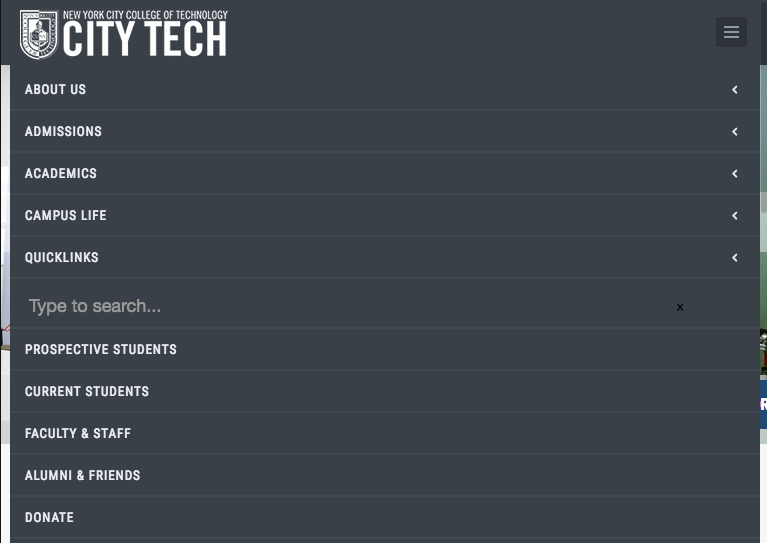 Will URL web addresses be affected by the new design?
Yes, to improve the URL structure and the search engine optimization, usability and accessibility of the college website. You can find the new URLs in "Offices and Services" menu in the "Quick Links".
Apart from the homepage, what changes in content will I see across the site?
You will see sub-site navigation on the left-side (instead of horizontal menu) of each page and additional links to the City Tech main campus website. Gradually, you'll see more changes across the website as we work with others to improve content, mobile accessibility and graphic elements. Breadcrumb navigation near the top of each page will make it easier to return to previously visited pages and will look similar to this …