300 Jay Street
Namm Hall 220 (N-220)
Brooklyn, NY 11201
Phone: 718-260-5630
Student Resources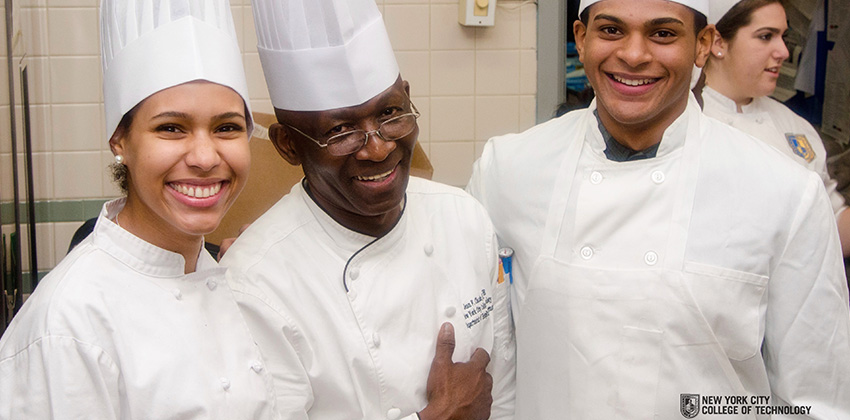 Hospitality Garden Club
Students volunteer in the Hospitality Garden, growing vegetables for use in culinary classes, and also participate in cooking and pastry demonstrations making use of local seasonal produce. Interested students should contact the faculty Club Advisor, Mark Hellermann at: mhellermann@citytech.cuny.edu and look at the Hospitality garden website.
The Food and Wine Club
Each semester, students participate in a series of tastings, lectures and professional workshops.
The American Culinary Federation, Big Apple Junior Chapter (ACF)
Students may become members of this nationally recognized chefs' organization. Qualified students guided by ACF-member faculty participate in culinary competitions on the local and state levels. Students have the opportunity to participate in community service events such as Cooks in the Market and holiday meal preparation for community-based organizations.
Spoons Across America Club
Student members volunteer in NYC public elementary schools and greenmarkets to support experiential food and nutrition initiatives.
The Thomas Ahrens International Programs
The department offers two popular international programs; students in both degree programs are encouraged to apply. Participating students must have valid passports and, in some cases, visas.
The Paris Exchange Summer Study Program
The department, in agreement with Université d'Evry~Val d'Essonne, provides a rich and varied learning and living opportunity for qualified students to earn six elective credits in international tourism and traditions of the French table. All requirements are detailed in a required meeting each February.
The International Work Program
Selected students spend the summer months working as interns at resorts, hotels and restaurants in the United States and western Europe. With the generous support of the NYCCT Foundation and industry associations including Societé Culinaire Philanthropique de New York, Inc., Paris Gourmet and U.S. Chef's Ski Club, students receive a stipend.
The hospitality management department is a designated recruitment site for the internationally respected work/study program presented by Disney. Selected students earn 12 college credits through a balanced learning, living and earning environment in Orlando, Florida, supported by online coursework.