Student Resources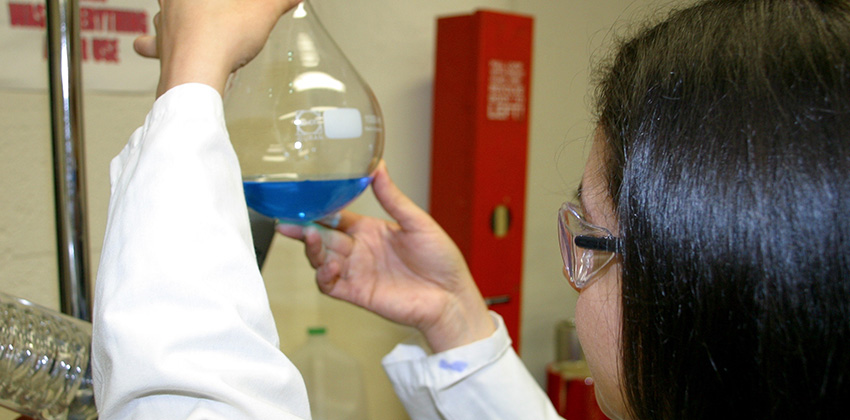 Chemistry is changing everyday as scientists discover new knowledge and ways of understanding the world. By participating in research, students can contribute to the process by which chemistry evolves. At the New York City College of Technology, the best way to get involved in research in the chemistry department is to seek out a faculty mentor. You may do this by reading over the faculty member research interests and then emailing the professor who is working on a topic that interests you. If you need help getting connected to a faculty member, you may email Professors Diana Samaroo, Jay Deiner, Alberto Martinez or any other full-time faculty member.
The Chemistry department participates in several research program: such as the Louis Stokes Alliance for Minority Participation (LS-AMP) program or Emerging Scholars Program. For more information please visit the college's Undergraduate Research website:
What can I do with a degree in Chemical Technology?
Become a Chemical Technician
Chemical technicians are the hands on members of laboratory teams. While we most often think of chemical technicians working for chemical or pharmaceutical companies, the economy is changing and new opportunities have emerged in areas like biotechnology, forensics, and environmental testing. In addition, government labs and academic institutions continue to provide opportunities for technicians to be involved in cutting edge research. Irrespective of the industry, a chemical technician's day is full of active lab work including performing experiments, analyzing samples, and operating sophisticated equipment. Because chemical technicians work as members of a team, they also spend a significant amount of time communicating key experimental results and data with team members. In the New York Metropolitan area, the median income for a chemical technician is ~ $43,000 (U.S. Bureau of Labor and Statistics). More information about careers in Chemical Technology can be found on the website of American Chemical Society.
Transfer to earn a bachelor's (B.A./B.S.) or to enter a degree program in pharmacy or other health profession
The associate's degree in chemical technology entails rigorous preparation in science, math, and liberal arts. It provides a solid foundation for students who plan to earn a bachelor's or advanced degree in chemistry or chemical engineering. It also provides an excellent start for students who plan to pursue a health career. In fact, the majority of Chemical Technology students who pursue advanced study pursue careers as doctors, nurses or pharmacists.
The courses required for the chemical technology degree are many of the same courses required for medical school, dental school, and pharmacy school. If a student earns his or her associate's in chemical technology and transfers to a senior CUNY school, the entire 60 credits of the associate's degree are applied to the student's next degree.