Accounting, Marketing, & Fashion Studies
300 Jay Street
Room N-1012
Brooklyn, NY 11201
Email: Business@citytech.cuny.edu
Phone: 718-260-5773
Fax: 718-260-5774
Vision Care Technology, Ophthalmic Dispensing, & Eyeglass Clinic
285 Jay Street
Room A-812
Brooklyn, NY 11201
Email: VisionCare@citytech.cuny.edu
Phone: 718-260-5298
Fax: 718-254-8521
Meet the Chair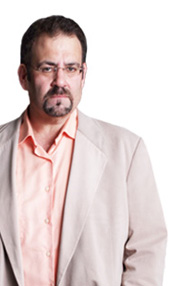 Lucas M. Bernard
Chair
N-1012
718-260-5773
I would like to extend a warm welcome to you as you visit our website. You or one of your family members or friends may be interested in one of our programs. The decision as to what to choose for a major in school can be overwhelming and scary, not just for the student, but also for the family. The good news is that the Business Department offers a range of practical paths – paths that will, in all probability, lead to employment and/or more advanced education.
Our courses offer you the opportunity to develop an appreciation for the multitude of opportunities available to you. These span entrepreneurship, accounting, fashion, marketing, and finance. In all, we offer you a chance to learn the underlying principles of business and gain competency at solving problems that may arise in the practice of business.
The department offers a wide variety of coursework ranging from Law and Financial Management, to Fashion Merchandising and Technology, to Financial Forecasting, to Marketing, and to Vision Care Technology (VCT) and Ophthalmic Dispensing. We also offer many elective courses. The research of the Business faculty is broadly focused in diverse areas. On our Publications & Research page, you can get an idea of our faculty's areas of expertise. When possible, we endeavor to offer students the opportunity to work with us on a variety of projects and present their results.
Our mission is to offer curious, motivated students a practical business education that will be valued in the public and private sectors of our economy. We offer you programs and courses that meet the demands of prospective employers. Students that study business at City Tech will learn how to analyze and solve important problems. The person who has the insight to effectively manage, allocate, and protect scarce resources will be the person who is hired and promoted.This is the person who will become an effective manager and entrepreneur.
We are committed to offering you a business education that will increase your professional opportunities in the retail, marketing, fashion, real estate, and entertainment sectors of the economy. If you have any questions, please talk to any of our faculty. They will be very happy to give you more information about our course offerings or to advise you in your academic endeavors. We look forward to meeting you.