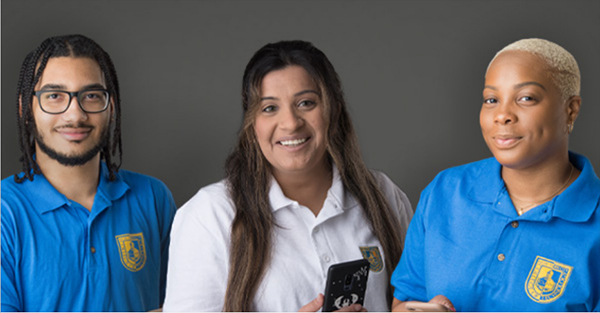 Photo Credit: Alberto Vargas, Office of Image and Visual Communications
Welcome to the Fall 2022 semester, and the inaugural issue of the City Tech Communications newsletter. Appearing monthly, we will share news from students, alumni, faculty, staff, and the College, connecting our online and on-campus community in Brooklyn and around the globe.
City Tech News
Department of Energy Recognizes City Tech Scholars' Climate and Extreme Weather Research
Professors Blake, Norouzi, and Rahman were awarded funding for their collaborative research project.
Two City Tech Students Awarded Impactful Social Business Idea Award
In their idea for an online caregiver platform, Computer Systems Technology major John Saeteros and Computer Engineering Technology major Rances Tremols combine their tech expertise with empathy.
Electrical & Telecommunications Engineering Professor Awarded Patent for System that Tracks Flying Objects
Read more about Professor Vladutescu's invention!
Business Professor Visits Austria as Fulbright Specialist
Over the summer, Professor Denise Sutton shared her teaching and research expertise at the University College of Teacher Education.
Mathematics Professor Selected for OUSAP Leadership Development Fellowship
Beginning Fall 2022, Professor Sandie Han will be serving as CUNY's Assistant University Dean for Academic Technology and Pedagogy.
Business Professor Selected as 2022 Henry Wasser Award Recipient for Outstanding Research
CUNY honors Assistant Professor Nazanin Hedayat Munroe's groundbreaking scholarship in textile history, design, and technology.
Terel Watson '12
Adjunct Asst. Professor of Legal Studies

City Tech believes its services to its students do not end at Commencement. Learning is a lifelong process, and the College aims to enrich the lives of all who have earned their degrees here long after putting away their caps and gowns.

Through Keep in Touch, you can easily update your records and share your thoughts on how City Tech can better serve its alums.
City Tech in the Media
The Dish: Chef Debra Sardinha-Metivier
A Hospitality Management alumna talks to CBS News about her roots, her travels around the world, and carrying on a 3-generation family tradition as a chef and restaurateur.
Why Do So Many Gen Zers Identify As LGBTQ? Because Of The Sacrifices Of Prior Generations, Experts Say
During Pride Month, English Professor and Gender and Sexuality Studies Program Coordinator, Laura Westengard, spoke to USA Today about Gen Zers and identifying as LGBTQ.
Hospitality Educator Blends Practical With Theoretical to Prepare Tomorrow's Leaders
Hospitality Management Chair and Associate Professor Karen Goodlad was featured in Total Food Service Magazine.
#FromTheArchives

Tucked in amongst the course catalogs, flags, banners and books housed in the City Tech Institutional Archive, these four buttons capture the history of our institution and evolution of its name. They show off some quality vintage graphic design, too!
Credit: Professor Wanett Clyde, Collections Management Librarian & Archivist
Events
National HSI Week
Monday, September 12- Sunday, September 18.
NYC from the Inside: New York Through the Eyes of Poets Who Live Here
Thursday, September 22 @4pm
New Academic Building
City Tech Memorial Ceremony
Thursday, September 29 @4pm
New Academic Building Theater and LiveStream
Invest in City Tech and Support Student Success
Make your tax-deductible gift to the City Tech Foundation Annual Fund today through the Foundation's Secure giving page below, or mail a check payable to:
City Tech Foundation, 16 Court Street, Ste. 600, Brooklyn, NY 11241