CUNY EDGE HOURS OF OPERATION
Monday, Tuesday, Thursday, and Friday
9:00 AM - 5:00 PM
Wednesday
9:30 AM - 6:30 PM
Monday: 2:00 PM - 4:00 PM
Tuesday: 10:00 AM - 12:00 PM
Wednesday: 2:00 PM - 4:00 PM
Thursday: 10:00 AM - 12:00 PM
Friday
By appointment
Click here for Zoom Link
Meeting ID: 486 743 7570
Passcode: 081316
718-260-5187
Welcome to CUNY EDGE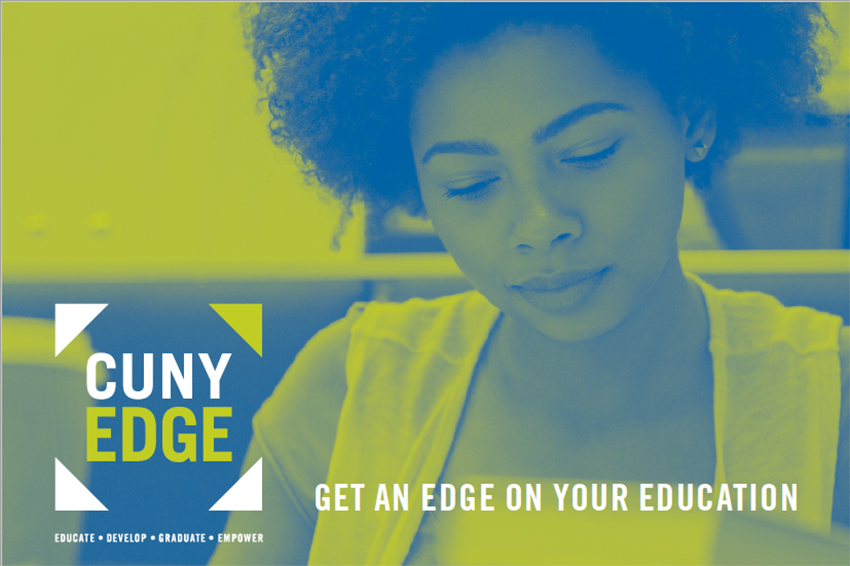 CUNY EDGE (Educate, Develop, Graduate and Empower) formerly known as the COPE program, is funded and operated in partnership between the New York City Human Resources Administration (HRA) and the City University of New York (CUNY) to provide matriculated CUNY students with the supports they need to succeed in college, secure sustainable employment, and to become civically engaged members of society.
The crux of the CUNY EDGE program comprises academic, personal and career advisement services. The goal is to promote a culture of academic excellence to support students receiving public assistance to persist to graduation. The program provides ongoing individualized planning and advising to help students achieve timely graduation and secure meaningful and sustainable employment.
Additionally, CUNY EDGE manages the HRA Fellowship Program (FP), which offers on-campus paid work opportunities that provide students invaluable professional experience. HRA determines HRA Fellowship Program eligibility and CUNY EDGE ensures the appropriate assignments that align with students' majors, interest, and level of experience.
CUNY EDGE Eligibility: Matriculated CUNY undergraduate students receiving HRA cash assistance.
Vision: CUNY EDGE envisions a world in which all people have access to the educational opportunities and support they need to realize academic success and a sustainable career, and a brighter future.
Mission: CUNY EDGE's mission is to help CUNY Students who are receiving public assistance achieve academic excellence, graduate on time, and find employment.
Values: Our values encompass all aspects of our work. Our values define us—who we are and who we are not. CUNY EDGE commits to being: